Beaconhouse School System
The Beaconhouse group has almost 300,000 fulltime students in eight countries and is possibly the largest school network of its kind in the world. Established in November 1975 as the Les Anges Montessori Academy with 19 toddlers, Beaconhouse has since grown into an international network of private schools, imparting distinctive and meaningful learning to students all the way from birth – through its partnership in Pakistan with Gymboree Play & Music – to post-graduation, through Concordia Colleges and the Beaconhouse National University.
Of these students, close to 105,000 study at the group's flagship network, the Beaconhouse School System, in Pakistan as well as overseas, while the remaining are largely enrolled at The Educators, a parallel school network operated by the group.
The Beaconhouse of today is thus much more than just a stand-alone school. Through distinct and independent divisions across multiple destinations including the UK, Malaysia, Thailand, the Philippines, Oman, the UAE, Pakistan and Belgium, it caters to the education and training needs of a large and diverse group of individuals of varying ages, socioeconomic backgrounds, and nationalities, with its activities also extending beyond education in some countries.

Beaconhouse aims to provide quality education of an international standard. We aim for excellence through quality management, quality training and quality teaching, bringing benefits to our students, the community and the wider world.
Beaconhouse values its heritage while it continues to reinvent its educational approach to meet the needs of the future. We believe that modern methods and attitudes can enable students achieve their fullest potential.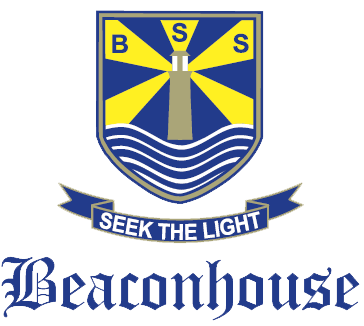 With the world and the needs of the community changing at an ever-increasing rate, Beaconhouse endeavours to be open to change, to adapt, innovate and keep pace with the goals that society expects. At Beaconhouse, our aim and belief is that through hard work and effort, students will be able to step confidently into the real and highly competitive world. We ensure that they are equipped with the ability to make mature and well-informed judgements based on a clear understanding of essential principles, concepts and moral values. This, we believe, is the best contribution we can make towards their development as productive members of society and, through them, to the country and the wider world.
Beaconhouse Clifton Campus
Clifton Campus of the Beaconhouse School System (BSS) is a candidate school for the International Baccalaureate Primary Years Programme (IB-PYP) since September 1, 2014. Our children our now on an exciting journey to becoming internationally minded lifelong learners! They will go through an experience of holistic learning and growth as they begin to work with the PYP curriculum framework with its emphasis on knowledge, concepts, skills, attitudes and action. They will be on the road to becoming World Citizens.
The PYP focuses on development of the whole child and provides a framework that can meet a child's academic, social, physical, emotional and cultural needs. It is inquiry based and lends itself to being integrated across the curriculum. Students are encouraged to take ownership of their learning and develop skills and attitudes to help prepare them for life in a global world. The PYP also caters for all the different kinds of learners in the classroom. It provides opportunities for students to get a deeper understanding of the topic. To this end, the IB teachers at Clifton Campus are participating in a wide variety of professional development programmes to constantly update their knowledge and share their expertise with colleagues around the world.
We are positive that with our zealous students and teachers Clifton Campus shall become an IB World School.
We look forward to you joining our hands in nurturing confident, open-minded, independently thinking well-balanced students ready and willing to take up global responsibility.
For further information on PYP you may visit the official website of the IB PYP at www.ibo.org/pyp/
Warm Regards,
Rabia Shadab
PYP Coordinator's message
The Beaconhouse School System, Clifton Campus is a candidate school for the Primary Years Programme. We are pursuing authorization as an IB World School. During the first year of implementing the Primary Years Programme (PYP) from Pre-Nursery till Grade V, we see prominent changes in our students brought about by a few months of learning through meaningful inquiry. We at Clifton Campus believe that being knowledgeable and skilled may be the manifestations of learning however there are several different ways to express these. In our students we see confident presenters, talented artists, growing writers and computer geniuses exploring the world around them under the umbrella of the six trans-disciplinary themes that take into account commonalities of human experiences and that integrate in them the six subjects identified in the scope and sequence of the PYP.
Our pedagogical leaders and teachers work diligently to implement the IB Standards and Practices. This includes rigorous collaborative planning, teaching and learning practices and assessments. The teachers are going through a wide range of in-house and online IB trainings in order to develop their professional practices. It is a great challenge for us, however on the other hand it is rewarding to see our students budding as responsible learners and compassionate young global citizens.
Warm Regards,
Tasneem Karbalai